New Plymouth Airport Project + Autex
Te Hono - New Plymouth Airport Terminal
The Papa Rererangi i Puketapu - New Plymouth Airport Terminal project saw the old, tired 60's airport transformed into a breath-taking cultural gateway to the Taranaki region. With collaborative efforts from Beca, Marshall Day Acoustics, Oroqi, local hapū Puketapu, and Anton Agnew of Autex, the new terminal was opened with a blessing on the 13th of March – a space for weary travellers to rest and revive.
Flanked by Te Tai-o-Rēhua (the Tasman Sea) and Mount Taranaki, the New Plymouth Airport holds space as both a physical and cultural gateway to the Taranaki region. To cater for up to 650,000 visitors annually, the tired 1960's airport was in need of a new, modern terminal. Working alongside Puketapu artist Rangi Kipa, architects Beca designed the light, open-plan terminal as a destination rather than just a transitory space.
The new terminal posed significant acoustic challenges due to the size, shape, materials, and occupancy. With high, pitched ceilings and panoramic glazing, the building was prone to excessive reverberation. As a busy public space, noise is a given. However, when everyday sounds are exacerbated by a buildup of reverb and echo, they become harmful – resulting in stress, fatigue, and potential hearing damage.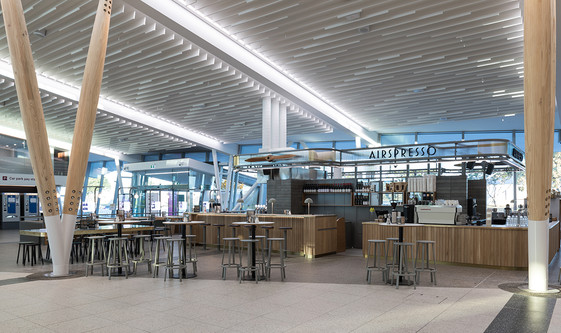 To create a comfortable, ambient space that supports the needs of weary travellers and airline staff alike, acoustic engineers must first assess the untreated RT (Reverberation Time) of the space. Without acoustic treatment the airport was sitting around 3.0 seconds; the AS/NZS 2107:2016 recommendation for public spaces at 1.0 -1.5 seconds. Acoustic engineers Marshall Day decided the space would need a couple of different treatments to achieve both the desired RT and the aesthetic vision.
To work cohesively with the space, Beca wanted a solution that was subtle in colour and posture, yet sculptural and engaging – functioning as a medium through which elements of the design story could be told. Frontier™ in Pavilion was the perfect choice. Cut and installed by Autex preferred installer Oroqi as a 3D representation of the kaokao pattern, the sprawling sea of Frontier Fins lining the airport ceiling control reverb and echo by absorbing problem frequencies. Each lightweight, 100% polyester fin was placed with intention – the spacing, thickness, and shape designed to target and absorb noise between 1000 - 4000 Hz (which is where the human voice typically sits on the frequency spectrum). Beca also specified perforated panels with GreenStuf®️ AAB 35-50 for the walls to help achieve the desired RT of 1.0-1.5 seconds.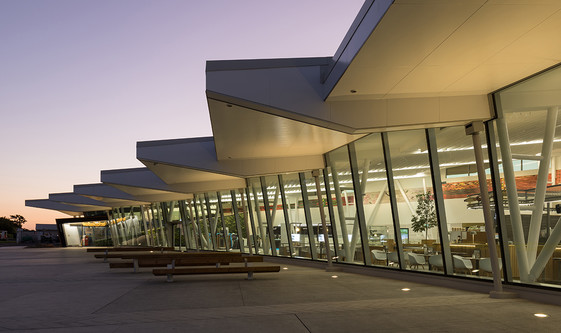 The terminal was opened at sunrise on the 13th of March 2020, with a blessing by Te Ātiawa and mana whenua Puketapu. The space, functioning as both a welcome and farewell to the Taranaki region, cradles and revives weary travellers – providing both respite and inspiration for their journey ahead.
Founded in 1967 on principles of innovation and outstanding customer service, Autex is a New Zealand owned global company specialising in the design, development, and production of interior acoustic products made from thermally bonded polyester. We are a team of highly-skilled and dedicated manufacturers, engineers, and creatives constantly working to transform commercial and education interiors into beautiful and functional acoustically sound spaces. With sustainability at the forefront of our design practice, we work hard to ensure every Autex product is contributing to a brighter and greener future.