One word sums up the stellar start to Chelsea Pratt's design career: initiative. She's got loads of it and it helped open the doors at Lululemon in Vancouver.
The story starts at AUT where Chelsea had been studying spatial design prior to morphing into industrial design in her final year. In 2017 she volunteered to help out at the Better By Design CEO Summit where she met Tom Waller, Senior Vice President of Innovation at Lululemon. He took an interest in her work and invited Chelsea to come up to the company's HQ in British Columbia.
AUT has an internship programme with several US and Canadian businesses, but not with Lululemon. Chelsea was able to get them added to the list. Fittingly, she was selected for the three month role. She jumped on a jet and dived in the deep end at a major multi-national with a staff of 3000.
"The first three months at Lululemon were a whirlwind. They have a main Seasonal Design Team working on all the apparel for each season. And then there's the Innovation Team who're working two to ten years in advance, looking at what's coming up, what research is coming through, what initiatives to go after. I was assigned to the Innovation Team," Chelsea explains.
"It was eye-opening because my colleagues were scientists, engineers, researchers, plus a handful of designers. There were about 60 of us on the team. It was a very high-calibre learning experience for sure."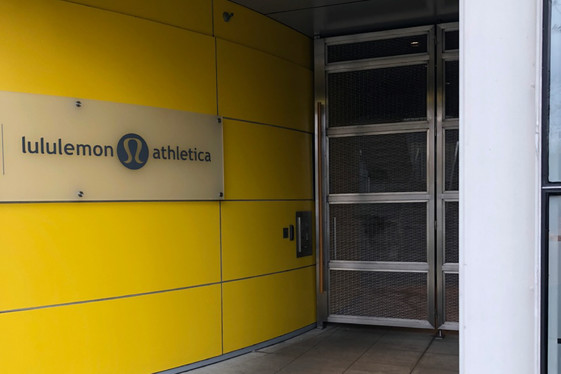 In the initial three months, Chelsea worked on an in-store experience project. "It was really cool to see the ideas come to life at a Lululemon store in San Jose in the States." At the end of the three month internship, Chelsea was offered a one year contract with the company.
In a business of this scale, it's not surprising that there were a few challenges. "The Innovation Team at this time went through a re-organisation process. The design function got a little messy and I was confused about what was going on."
Chelsea's initiative proved its value again. "I persevered and had to find the confidence to speak up and instigate the change, to go after other opportunities when things weren't working." When Chelsea struck up a conversation at an event with Lululemon's Senior Vice President of Women's Design, Audrey Reilly, she was invited to join the Women's Design Team.
This led to her working on the graphic displays for the brand's internal creative inspiration kickoff for their entire upcoming new season range. Not one to let any opportunity pass her by, Chelsea can now add apparel design to her resume. She embraced the 3D software the clothing designers were using and her input will be seen in the new ranges hitting the stores in 2020.
So, what advice does this enterprising former DINZ Student Council member have for newbie designers looking to make their mark on the world?
"It would've been easy to get overwhelmed by working within such a big environment. My biggest learning from the Lululemon experience has been knowing when to back yourself and have the confidence to speak up."
Now that she's left Lululemon, what's next for Chelsea Pratt? "I've come to know that the most important part of design is the story that you're telling - knowing when to go deep and when to go broad. I'm really excited to return to New Zealand in the near future. I hope to continue refining my skills, bringing design to life through the impact of storytelling."
Storytelling by Simon Otto.