DINZ Partner Interview - Shortland and Fort
A project between Italian Stone and CPRW
We sat down to lunch with Wade Jennings of CPRW, Graeme Thorne and Matt Johnston of Italian Stone to discuss some of the anecdotes and highlights of trading in natural stone across the world and how they collaborated in CPRW's recent transformation of the Shortland & Fort building in Auckland's downtown.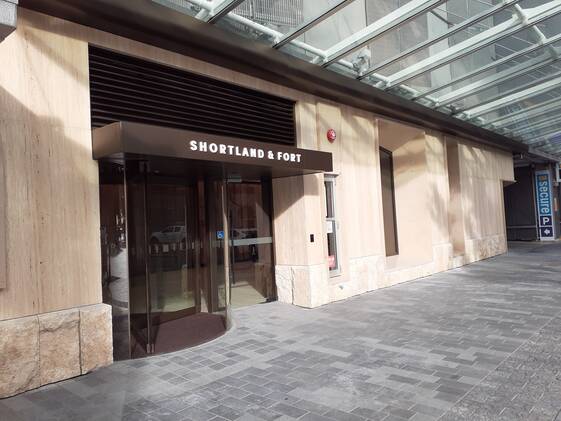 During our conversation, Graeme Thorne, who has been in the industry for over 40 years, alludes to the soft, nearly soapy mountains of terrestrial limestone in Italy with a certain amount of twinkly-eyed excitement. Blocks of travertine that have been created by the soil and centuries of thermal waters bubbling away, layering rich, mineral deposits into a beautiful material full of depth, veins, textures and character. But most of all, he talks about the experiences lived and the relationships forged while sourcing these pieces.
One story begins with him and Matt Johnston trusting a GPS to lead them to the Ascoli region of Italy in search of a type of white travertine he had been hearing good things about. "We wanted to go and sort it out for ourselves," he says, "and the company who tried to sell this to us gave us their address [which took us to] this completely abandoned factory. The stoneyard wouldn't have had anybody in there for 50 years and it was completely overgrown!".
He speaks of "Nicola in the quarry at Tivoli or Andrea in Antolini's yard… we've got a guy in Portugal, we've got people in Spain, in Germany." There is even talk of a stone trader in Turkey with very clear instructions to put Graeme's name firmly on any top-quality block of the highly-desired 'invisible light' marble he happens to chance upon; "we've created special relationships all around the world, really."
It was partly due to this impressive network that his company was tasked with sourcing natural stone for the 88 Shortland Street Asset Transformation project (now known as Shortland & Fort). Formerly known as the Lumley Centre, the 125m tall building straddles both Shortland and Fort streets in Auckland's downtown.
Historically, the area was where the Waitematā originally met the land before the first reclamations, where the country's first wooden public building was constructed and where the harbourage was located.
Back when the Lumley Centre was erected, however, "Fort Street was where you'd go on a Saturday night to get stabbed," jokes Wade Jennings, Director of CPRW, the firm tasked with its renovation. It was because of this reputation, that many of the Shortland Street Buildings structurally "turned their back" onto the formerly seedy little lane, according to the architect. "But since then, the bottom of town and Britomart have been completed into a proper precinct... all of a sudden these buildings are facing the wrong way."
CPRW was tasked with an 'Asset Transformation Package' that gave the building a "Britomart address" and encompassed: "new public entrance from Fort St, the re-plan and re-design of the primary entry lobby (L9), the business centre, gym, and EOT facilities (L8), as well as new lifts, and full re-clad of the rotunda. It also include[d] base building upgrades to typical office floors and core areas," according to the architecture and design practice.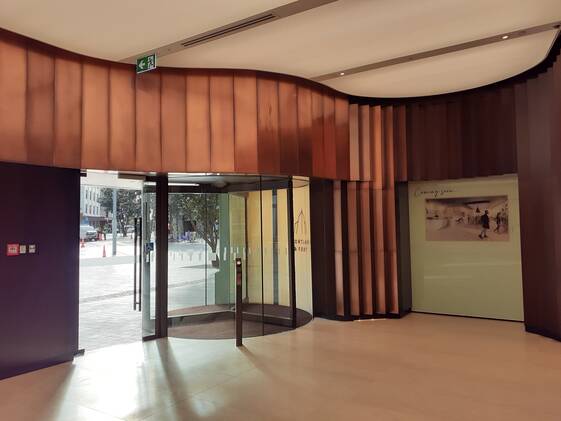 The Fort St entrance's neighbouring building has "a heritage listed façade," says Wade, "and our rhythm and proportion of the new façade is a nod to it." Capitalising on Wade's European design experience and his admiration of Chicago's Mid-Century architecture, one of their first moves for the new exterior was travertine. "It was a material I have always wanted to work with and this project felt like the right one – the new lobby and entrance had to pack a lot of punch to be legible in the streetscape and travertine certainly says 'I'm important' and 'not a shop'".
Therefore, Graeme and his company were the go-to team.