To The Floor is a design competition brought to you by Milliken-Ontera.

Designers from all over New Zealand were invited to submit their Lifeforce design concepts.

The design theme for this competition was inspired by the circular flow of our living systems. Creating a rhythm between all living things, restoring and regenerating with each flow.
The winner will work with Milliken-Ontera's creative director to develop a carpet tile collection that will be manufactured and sold globally earning the winner 3% on sales.
From the 58 entries the judges selected 6 finalists and the winner.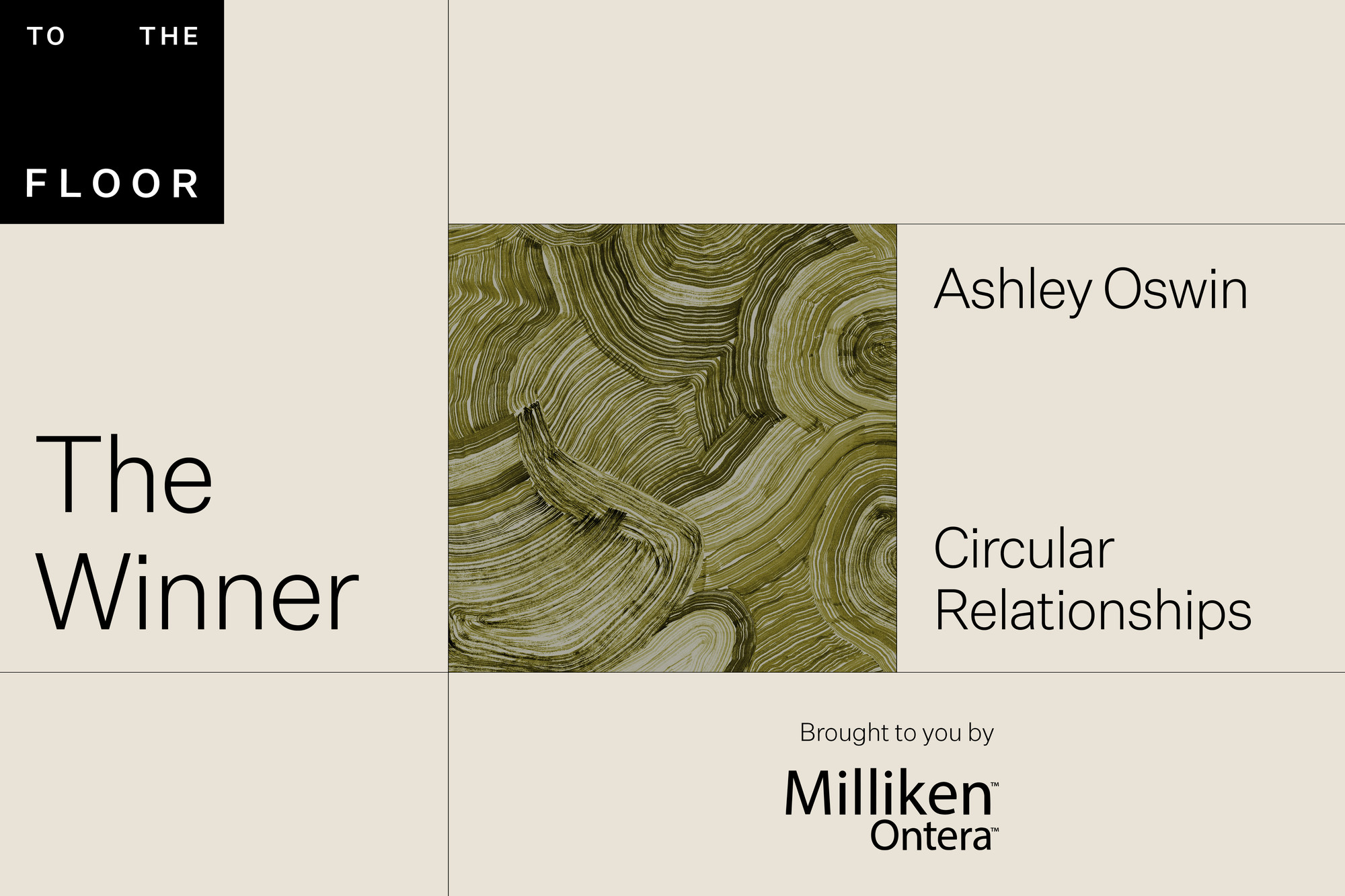 We would like to congratulate Ashley Oswin -
the winner of the To The Floor design competition.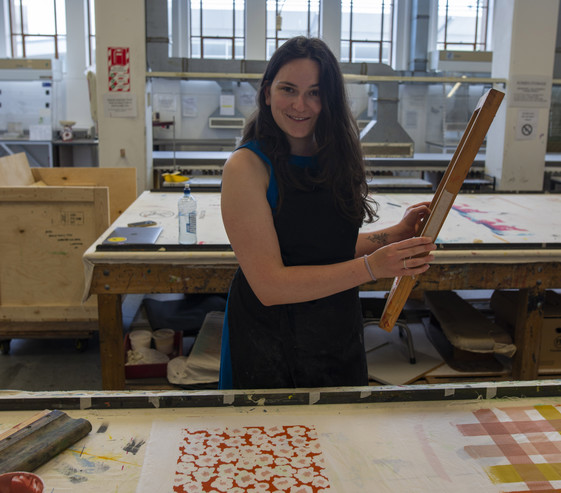 Ashley Rose Oswin is a textile designer and artist based in Wellington. She has an interest in behavioural approaches to sustainable design and a love for meaning, technical innovation, process and repeat patterns. Ashley enjoys working on projects that call for a more critical and philosophical approach. She is currently working as a Textile Technical Demonstrator at Massey University College of Creative Arts.
Shaneel Deo, Managing Director, Milliken-Ontera.
"We are proud to partner with the Designers Institute to showcase the design talent in New Zealand to the World through our inaugural carpet design competition "To the Floor". The response from the design community in New Zealand was fantastic, with very high calibre entries received. It was great to see the consensus from the judges on the finalists and ultimately the winner..

Congratulations to Ashley Oswin for winning the competition and we look forward to commercialising her concept into a successful carpet tile collection."
Circular Relationships
- Ashley Oswin
"The anthropocentric mindset of Western society has fostered a great imbalance between humans and nature. It is our responsibility to restore the balance that we have diminished and revert to a more reciprocal and circular relationship with the environment.

Acknowledging people, nature and the cosmos as parts of a whole - interconnected, symbiotic and inseparable from one another - is key to the sustainable future of Aotearoa.
This design is a visualisation of the interconnectedness and circularity throughout our world, a continuous seamless repeat pattern acknowledging the complex relationships, shared energy and reciprocity between all things.

Visualised in colours from the landscape of the South Island to bring nature into human dominated spaces, with vibrant blues from Lake Tekapo, greys and greens from near Farewell Spit and reddy tones from Glenorchy Lagoon."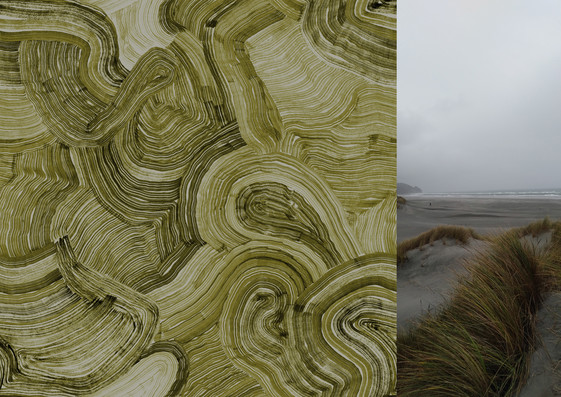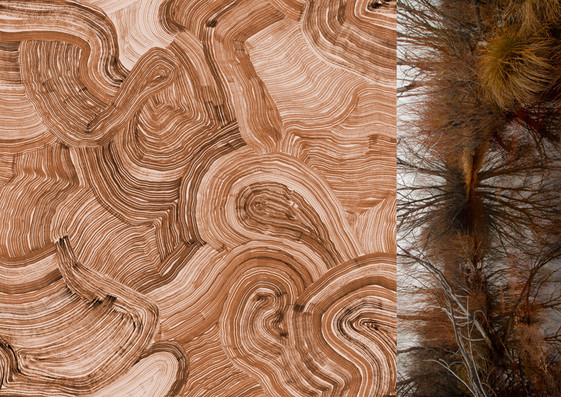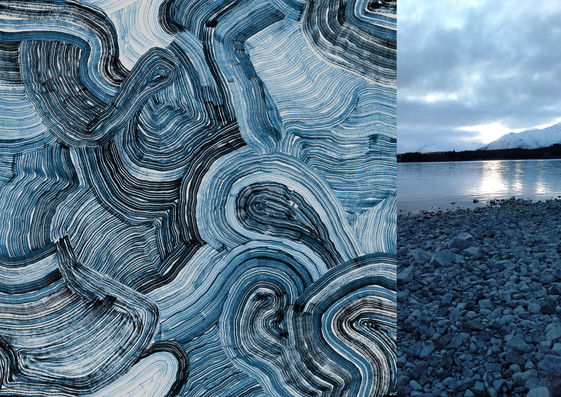 Ashley will work with the creative director from Milliken-Ontera, James Mfula, to develop a carpet tile collection that will be manufactured and sold globally earning the Ashley 3% on sales.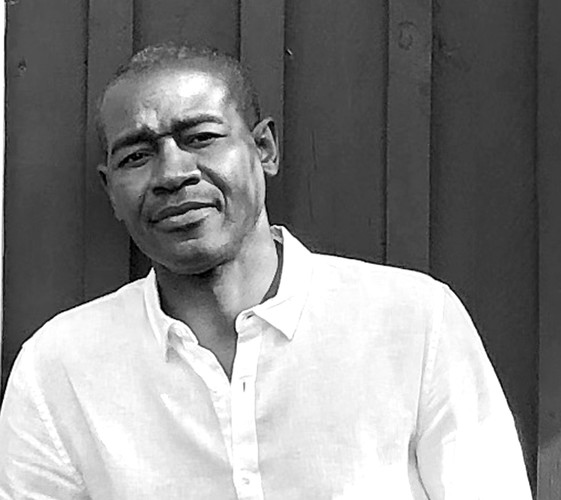 James Mfula, Creative Director, Milliken-Ontera talks about the next steps in the process .
"The first part of the brief is to meet and listen to Ashley's creative story on how she developed her concept. From here we will have an understanding on how we can utilise this information to further develop the range.
The next stage is to discuss the Milliken-Ontera design print process and work through a collaborative process of developing the patterns in order to achieve a mutual commercial outcome.
Through every step of the collaborative process the two teams will be in constant discussion on pattern design and colour selection.
Development samples will be sent at appropriate times for feedback and evaluation.
The design brief will follow our Milliken Couture 4-step process.
- Concept
- Design
- Refine
- Produce
We look forward to working with Ashley as we bring her concept to fruition".
TO THE FLOOR FINALISTS 2020
Rosanne Nola and Jen Cheyne, Unexpected Pathways
Portia Beacham and Frances Fraser, Drawing From Pariwhero
Olivia Collinson, Whatipu Beach
Miranda Brown, Lace Of Interconnection
Ying Chu and Ryan Shields, Zen Garden
Alisha Patel, Fearon Hay Architects
Kelvin Soh PDINZ, DDMMYY
Valentina Machina PDINZ, Jasmax Architects
Meisha Kimber PDINZ, Alt Group
We are living through a time of great imbalance, one that will ultimately bring forth a new era of creativity. An era that works with nature, not against it. One that gives more than it takes.
The circular flow of the natural world means our ecosystems are constantly flowing, adapting and are ever changing. Increasingly, we are seeing the negative impacts of the human world on these systems and we are becoming more detached from the natural world. How might we design- in nature?
The energy flows across the natural and created world, generates a lifeforce that can be shared between the people we sit next to at work, the clothes that we wear, the streets that we run, the carpets we feel beneath our feet that flow across the spaces we occupy.
This interconnected nature of all things is central. Where the lifeforce is at its most flourishing when the environment, people and the spiritual dimension are in sync with each other.
This was our opportunity to design as nature intended.
We were looking for designs that bring to life this concept of circularity and a reciprocal lifeforce for you. We wanted you to imagine what your design might give to a space. A place where everything is connected and generates a lifeforce for its inhabitants. The systemic challenges we currently face cannot be solved in isolation but in the connections between each of us and the world around us. How might these designs bring forth these connections?
So, whether a carpet design that inspires connectedness between people and the environment to enhance their lifeforce, or one that brings nature into the moments that matter, we were looking for a design that connects us in circular flow with the world around us. To usher in a new era of being.
The design brief was to create a piece that expresses the circular flow of our living systems for you.
The design didn't need to be designed with a carpet tile as an outcome, as we wanted you to explore freely.
The Milliken-Ontera design team will use their experience to develop the winner's piece into a commercial carpet tile.
Entrants submitted a single hero image and some extrapolated the hero image into more detail or abstractions
Any piece created is owned by the entrant
- refer to Terms & Conditions below.
LAUNCH
4 August
CALL FOR ENTRIES
7 August
ENTRIES CLOSE
9th October
FINALISTS ANNOUNCED
30th October
WINNER ANNOUNCED
30th November
Terms & Conditions below.
If you have any questions contact events@dinz.org.nz or
027 473 2399