Background
The Best Design Awards are a major feature of the local design calendar and some of last year's winners are touring the country to offer first-hand insights into their projects.
Speaker(s)
Shahriar Asdollah-Zadeh, Patrick Loo, Sarosh Mulla
Rainbow Machine
Population growth presents Auckland with new challenges and opportunities. High density living for families in the city centre is one of those many challenges. How can Auckland provide more urban amenities for families? Auckland Council and the Waitematā Local Board continue to provide more creative experiences for children living in the Waitematā area.
Rainbow Machine is an immersive experience of natural light that created an interactive play-space for children, an experience that they could discover and visit with their families.
Alt Group, Monk MacKenzie Architects & Knight Associates
Dean Poole FDINZ, Rufus Knight PDINZ, Mark Craven NZRAB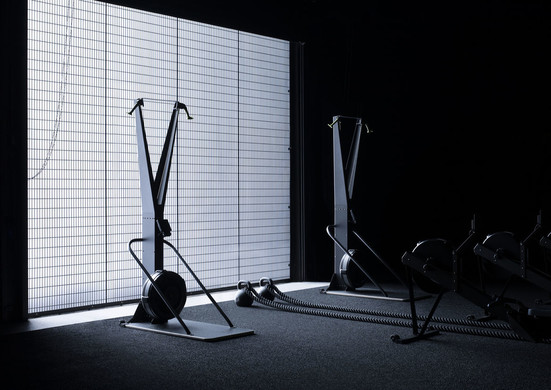 Les Mills Auckland City
Les Mills is a world-leading fitness and lifestyle brand committed to improving health and wellbeing aspiring to create 'humans fit for life'.
Their Auckland City campus is the global hub for training development and innovation which occupies a large inner-city footprint. The newly refurbished space accommodates three new offerings for members – functional training, boxing and the world's largest 100-bike immersive cycle studio.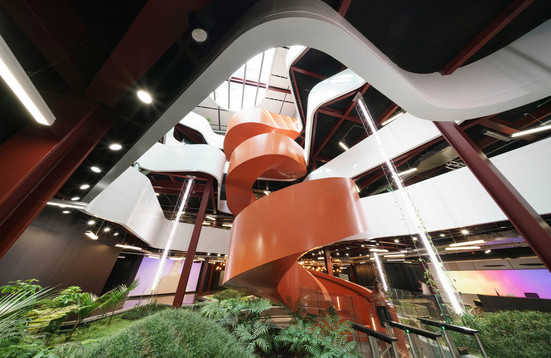 B:Hive, Smales Farm
The B:Hive concept has been conceived as the first step in the transformation of a twentieth-century office park to a twenty-first century engaged urban hub. Its genesis is to be a "place" for flexible, collaborative and community engaged work attracting start-ups, small companies and individuals and where wellness was a primary consideration.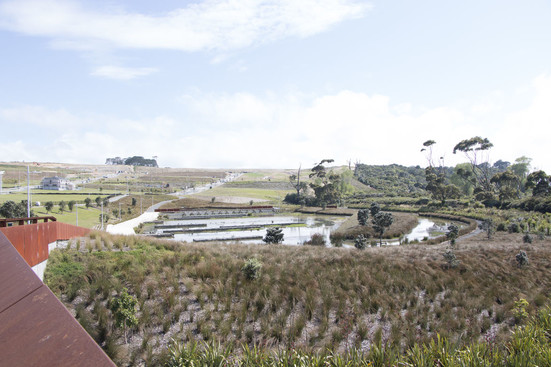 Vaughans Stream Corridor – Wetlands + Bridges
The Vaughans Stream Reserve is a new 20ha infrastructural park that provides signature landscape experiences for a site that encompasses a new town centre, houses and parks.
With its sensitivity to the surroundings of Long Bay and the Waitematā beyond.
The design strategy stitches together the ecological restoration of the corridor with new stormwater and social infrastructure programs into a contemporary coastal parkland network with a distribution of design elements - boardwalks, bridges and pavilions - which facilitate circulation, navigation and occupation.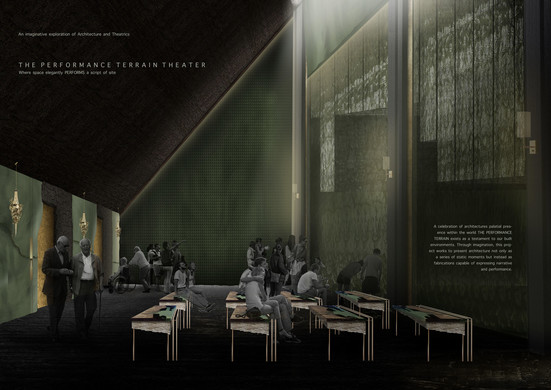 The Performance Terrain Theatre
In a bold cutting of Fort Lane's existing urban fabric sits a daring visionary architecture that is theatrical, gracious and rhythmical. A dance of colour and space.
At the lane's Fort Street entrance, both above and below the surface, The Performance Terrain Theatre will exist as a moment within the city where space rhythmically transforms, materiality pirouettes and eyes will drift.
Beneath the weight of urban dwellers, the hidden performance of ground, land, and architecture takes place. Small spatial moments work together in a combination of materiality, surface, colour, and form to imaginatively retell a moment of history.
Bureaux
Jessica Walker, Maggie Carroll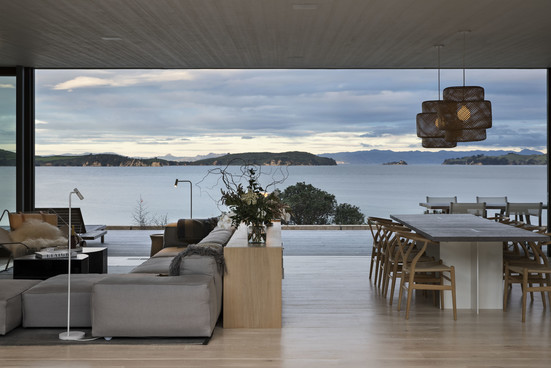 Arran Bay House
The water's edge on Waiheke's west coast is a tranquil setting; populated by small, white, weatherboard baches, with an occasional jetty pushing out towards Rotoroa Island.
This new beach house is a place of escape and retreat, but it is primarily a place for active lives to be lived on the water.