To The Floor is a design competition brought to you by Milliken-Ontera to create a design that is to be translated for commercial environments.
The winning design will receive royalties of 3% on global sales from Milliken-Ontera.
The design theme for this competition is inspired by the circular flow of our living systems. When these are in harmony, human life prospers through an amplifying, reciprocating lifeforce. Creating a rhythm between all living things and the objects we cherish, each adapting with the energy that comes with being connected, useful and purposeful throughout many life cycles. Restoring and regenerating with each flow.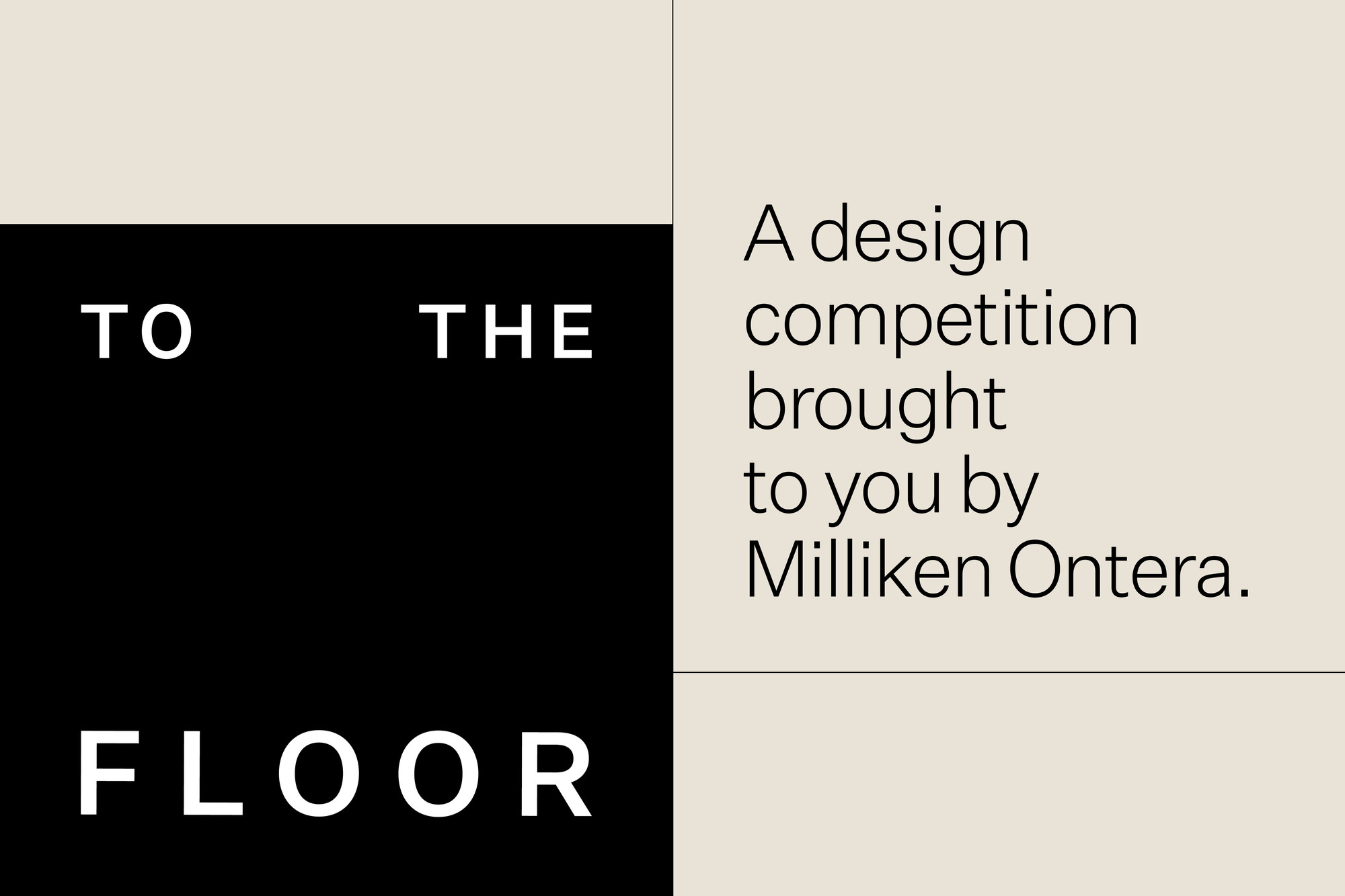 To The Floor - The Lifeforce
We are living through a time of great imbalance, one that will ultimately bring forth a new era of creativity. An era that works with nature, not against it. One that gives more than it takes.
The circular flow of the natural world means our ecosystems are constantly flowing, adapting and are ever changing. Increasingly, we are seeing the negative impacts of the human world on these systems and we are becoming more detached from the natural world. How might we design- in nature?
The energy flows across the natural and created world, generates a lifeforce that can be shared between the people we sit next to at work, the clothes that we wear, the streets that we run, the carpets we feel beneath our feet that flow across the spaces we occupy.
This interconnected nature of all things is central. Where the lifeforce is at its most flourishing when the environment, people and the spiritual dimension are in sync with each other.
This is our opportunity to design as nature intended.
We are looking for designs that bring to life this concept of circularity and a reciprocal lifeforce for you. We want you to imagine what your design might give to a space. A place where everything is connected and generates a lifeforce for its inhabitants. The systemic challenges we currently face cannot be solved in isolation but in the connections between each of us and the world around us. How might your design bring forth these connections?
So, whether this is a carpet design that inspires connectedness between people and the environment to enhance their lifeforce, or one that brings nature into the moments that matter, we are looking for a design that connects us in circular flow with the world around us. To usher in a new era of being.
The design brief is to create a piece that expresses the circular flow of our living systems for you.
The design doesn't need to be designed with a carpet tile as an outcome, as we want you to explore freely.
The Milliken-Ontera design team will use their experience to develop your piece into a commercial carpet tile.
Your design can be one single hero image. However, you can extrapolate the hero image into more detail or abstractions as consideration in your entry.
Any piece created is owned by the entrant
- refer to Terms & Conditions below.
LAUNCH
4 August
CALL FOR ENTRIES
7 August
ENTRIES CLOSE
9th October
FINALISTS ANNOUNCED
30th October
WINNER ANNOUNCED
13 November
SUBMIT YOUR ENTRY after you have read the Terms & Conditions below.
If you have any questions contact events@dinz.org.nz or
027 473 2399